Wisconsin Cattlemen's Association recognizes award winners at 2023 Summer Tour
Wisconsin Cattlemen's Association recognizes award winners at Summer Tour
June 24, 2023
BARNEVELD, Wis. – Acknowledging their dedication to excellence within Wisconsin's beef industry, the Wisconsin Cattlemen's Association (WCA) honored award recipients during the 2023 Summer Tour hosted in Southwest Wisconsin.
The 2023 Cattleman of the Year is Jack Johnson of Medford, Wis. Johnson has been an active member of the Wisconsin Cattlemen's Association for many years. He is a past board member and currently represents the WCA on the Wisconsin Beef Council Board. He is a member of the Wisconsin DNR Wolf Management Planning Committee representing cattle producers throughout the state. Johnson rarely misses a WCA event or meeting and provides valuable and insightful input. He is always open to talk about not only cattle, but issues facing cattle producers as well. Johnson is known for unselfishly recommending and promoting other cattle producers when potential customers are looking for breeding stock or beef.
Josh and Gretchen Kamps near Belmont, Wis. received the Beef Quality Assurance Award. The Kamps own and operate Pleasant View Farms, an expanding Angus cow-calf operation. They calve in both the fall and spring and then finish their cattle. In 2007, they installed improvements and built a monoslope facility to enhance management and environmental stewardship. Throughout their career in the industry, the couple has focused on cattle handling and implementing Beef Quality Assurance practices on farm. The Kamps work with the young sire program with Genex to help provide data and information. Record keeping is crucial to their operation so they can improve cattle and provide a high-quality product to consumers.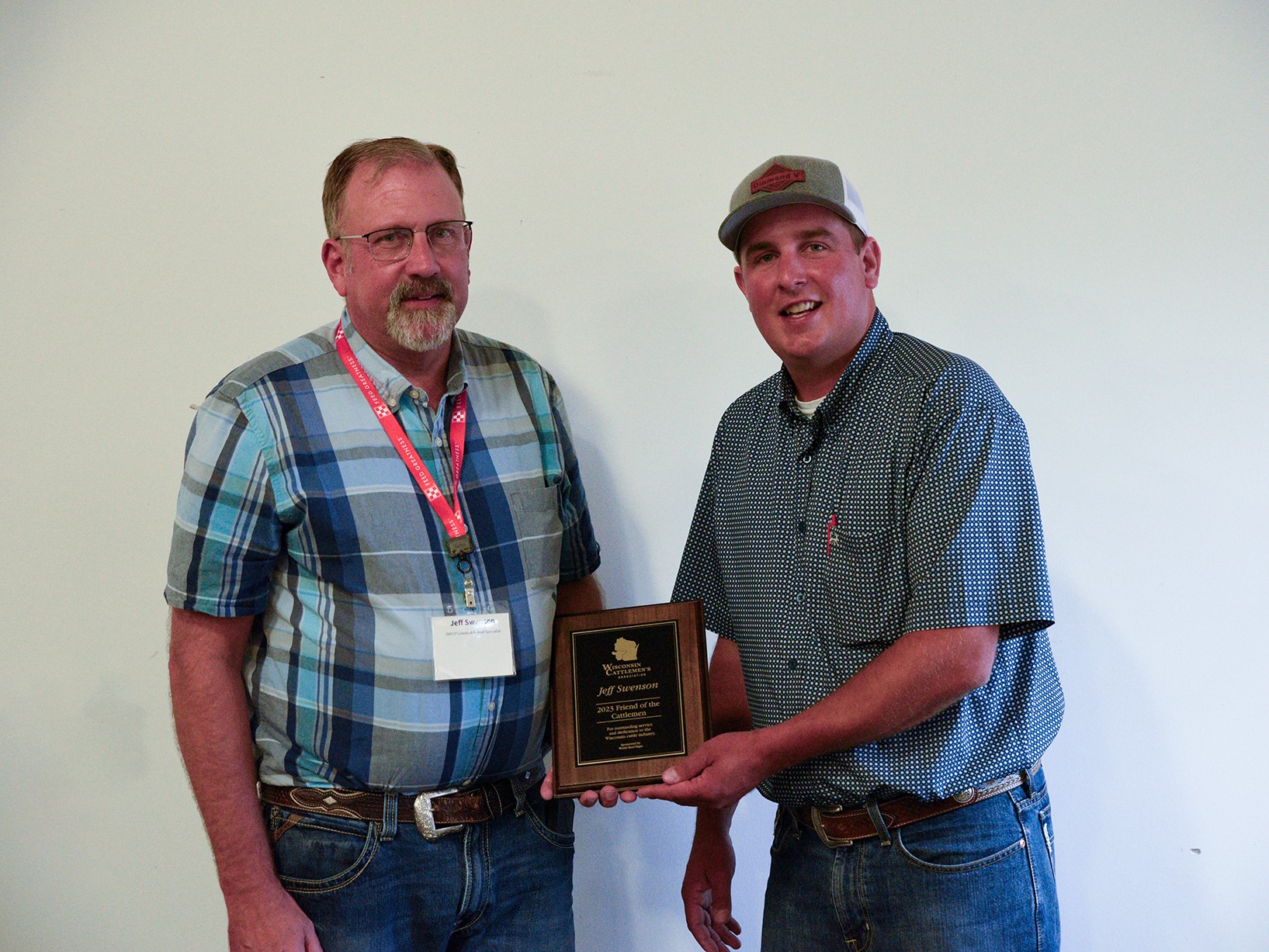 Jeff Swenson earned the 2023 Friend of the Cattlemen award. Swenson is the Livestock and Meat Specialist for the Wisconsin Department of Agriculture, Trade and Consumer Protection (DATCP). He has been in that position for over 16 years. As part of his role, he works with livestock producers and meat processors, bridging the gap between the two sectors. Swenson is a resource for beef producers and meat processors, regularly attending meetings of the Wisconsin Cattlemen's Association, The Wisconsin Beef Council Board, and the Wisconsin Association of Meat Processors, along with nine other livestock/meat organizations. He secured federal funding to develop the Master Meat Crafter Program, the only training program of its kind in the United States. He currently organizes Meat Talent Development projects and assists with the Meat Processor Grants offered by DATCP. He also writes the Weekly Livestock Market Update.
The Environmental Stewardship Award went to Riechers Beef outside Darlington, Wis. where the family feeds cattle and cash crops. Riechers Beef has cooperated with Discovery Farm to research sediment loss, potential impacts of hormone implants on livestock manure, and manure handling in the operation. They not only implement environmental stewardship practices on their farm but also contribute data and information to make future improvements in this area. Mark Riechers has been a strong advocate of Discovery Farm and Wisconsin Cattlemen.
Additionally, the WCA recognized Eric Johnson of Lodi, Wis. with a Meritorious Award honoring his 16 years of service to the organization. Johnson is a previous WCA president, recently chaired the Legislative Committee, and represented WCA on the Ag Coalition. He rarely missed a board meeting and was always known for providing sound guidance to help ensure the future success of the organization.
Posted: June 24, 2023